Automated code review where you work.
Immediate results,
right in your pull requests.
From GitHub to BitBucket to your own hosted solution, our analysis is there to keep you informed.

Integrates directly into your workflow.
Get notified in Slack, HipChat, or wherever you work when an issue arises. Catalogue potential improvements in Jira. Code Climate integrates with your favorite tools.

All of the data, one of the tabs.
One interface to all of your data, from test coverage and style to security and code quality.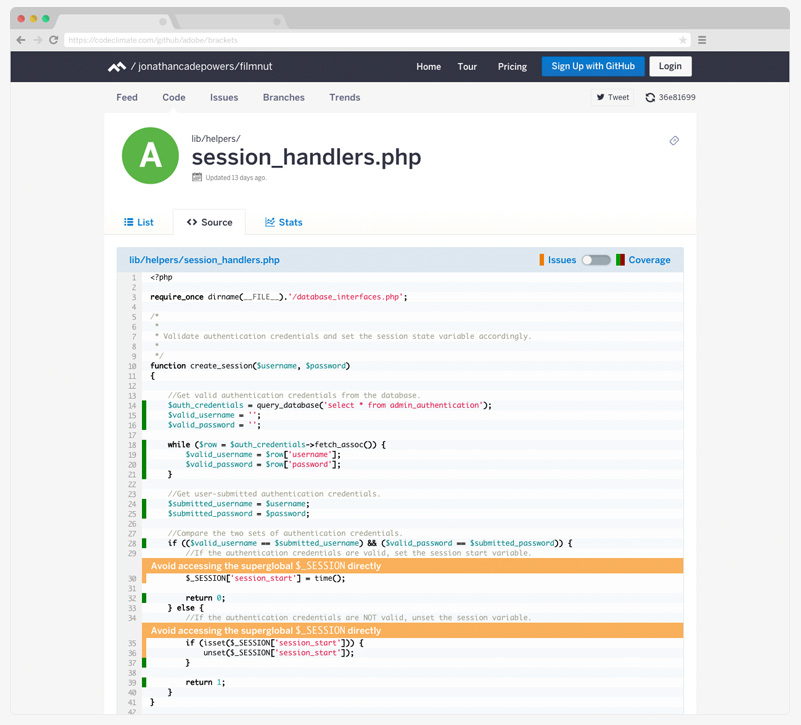 Level up your development team.
Educational content helps you triage issues, identify fixes, and improve your team's skills and ability to produce maintainable code.
Raise the visibility of code quality.
Demonstrating the importance of code quality is difficult when it's subjective. We quantify the issues in your code, summarize the changes, and give you the data you need to communicate your team's achievements and challenges.

Track progress over time.
Observe the impact that your team has on the codebase. Changes in quality are tracked over time, helping you correlate changes with external factors, identify trends, and turn previously "point in time" analysis into a living, changing metric.